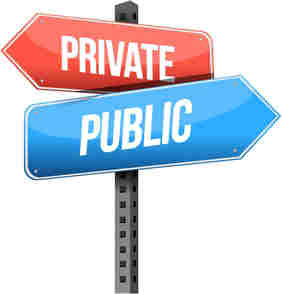 When registering a domain, part of the process involves you giving your contact details to your domain registrar. This includes your name, address, email and phone number.
But did you know once you have completed the registration process, all of your personal contact information becomes immediately available to the public via the Whois database?
However, if need be, you can stop this from happening by using domain privacy protection. This service ensures your contact details are not disclosed.
So ask yourself….."Do I need domain privacy"
If the answer is "yes", then I highly recommend that you use a domain privacy service.

If your registrar does not offer Whois privacy protection you may transfer your domain to a registrar that does.
In my view domain privacy protection is definitely worth it and I use a Whois privacy protection service called WhoisGuard. This service is available on domains registered with Namecheap.
How to Check if Your Contact Details are Private
Click here and enter your domain. You will then see what contact details are stored in the Whois database for the domain you entered.
Below is a partial screenshot of a Whois query example.
To generate this query I used my test domain which is WhoisGuard protected. As you can see my personal details are not shown, instead they are replaced with details from WhoisGuard.
If you are a WhoisGuard user and have just discovered your personal contact details are showing in the Whois database, then check out this post which explains how to enable WhoisGuard from within your Namecheap account.
Is Whois Privacy Protection Free?
I did find some domain registrars that offered this service for free. However, I quite often found they would charge more for domain registration compared to other companies that did not offer domain privacy for free. So check the overall cost between different companies to find the best deal.
I personally didn't take any notice of the free offers. I was more concerned with choosing a reputable domain registrar that I was happy with and if I got anything free that would have been a bonus.
UPDATE – Namecheap are currently offering WhoisGuard free for the first year when you register a domain with them. This is a genuine offer and does not increase the overall price when registering a domain with them.
If you do decide to use Namecheap take a look at this page (opens up in new window). Here you will find the latest Namecheap coupon code to receive discount on your domain registration.
One Final Important Point
Please read the following quote from Namecheap:
"Due to registry restrictions, WhoisGuard cannot be used with .asia, .bz, .ca, .cn, .co.uk, .de, .eu, .in, .io, .me.uk, .nu, .li, .ch, .fr, .sg, .com.sg, .org.uk, .us, .es, .com.es, .nom.es, .org.es, .com.au, .net.au or .org.au domains."
These restrictions are not only enforced by Namecheap. All domain registrars that offer a Whois privacy protection service have to abide by these rules. So check first that the domain you own can be used in conjunction with privacy protection.
I should mention that if you own a .uk domain and it is not used for business purposes, you can remove your address details from the Whois database. If this is something that might interest you, you can find more information on the subject by clicking here.
Photo © Depositphotos.com/Alex Pretelt