Building an online marketing business is a lot like building an actual brick-and-mortar business, literally from the ground up. If you don't build the foundation properly, everything else you do afterwards is standing on shaky ground. What does crown moulding matter when the foundation is falling apart?
Similarly, what's the point of a beautifully designed website if there's no traffic. Even more to the point, what's the point of traffic if it's the wrong kind of traffic?
Why It's Important to "Get it Right" From the Beginning
If you're going to develop a successful online business that promotes, informs or sells to a targeted audience then you must use the right tools from the start. The keyword tool is hands down one of the most important tools to use when starting your online venture. It provides invaluable information that can be used as part of your SEO campaigns and strategies.
Compare to the brick-and-mortar business again, you wouldn't open up a jewellery store in just any old neighbourhood, would you? Sure, you can get lots of foot traffic in your store if you put it in a high traffic area where people come to shop. However, since you're selling expensive products, you want the people walking in to actually purchase your jewellery.
Therefore, the kind of traffic you're getting is all important. You would want to get your hands on some market research for the area…foot traffic, demographics. You would also want to learn about demographics of the surrounding neighbourhoods to decide whether there's potential for developing a local customer base with money.
Don't Start Your Business With Bad Research
Same with starting your online business, you'll need data and of course that comes from a keyword tool. Here you have choices to make, use a free keyword tool or use a paid version of a keyword tool or service.
What do you get when you pay for a keyword tool? Lots more than the free versions, that's for sure. But only you know whether all the extras you get are worth investing in for your particular business. Obviously your budget, experience and goals determine whether it is necessary or useful to use a paid version of a keyword tool. The last thing you want is to pay for something just because it's there.
Free Keyword Tools – Fine if You Have Lots of Time
You can use a free keyword tool to generate a list of keywords, however most of the time you're simply getting a list of keywords and how many searches they get. It's like getting a count of how many people walk down a particular street where you want to open up that jewellery store. You still don't know much about the quality of that traffic.
So the next step would be to try and extract useful information from your list of keywords. You would go to an assortment of other free tools available and you would manipulate the data in spreadsheets by sorting, filtering and analysing the data.
What all this boils down to is TIME. If you've got unlimited time and patience, as well as a small scale operation, then this may suit you just fine. But if you're in the business of creating websites to make money, or if you do this for clients, you should consider how much time it's going to take with the free methods.
Keyword Research Example – Free Method
Type your keyword idea into a free keyword tool to get a list of related terms and number of searches.
Export the list for later use.
Run the tool again for another keyword idea you have. Run it over and over for all your ideas.
Look up the top ten sites that rank for the keywords you've identified as having potential.
Analyse those top ten sites… their backlinks, Domain Authority, PageRank, MozRank, Facebook likes and shares etc.
Record the information so you can analyse it later.
Use Google Suggest or a suggest scraper to get other variations on your keywords. You'll also find long tail terms this way.
If you find any new keywords from step 7 repeat steps 1 to 6.
Once you've gathered all this information, take it all and process it into one giant spreadsheet so you can truly analyse things.
Paid Keyword Tools – Time Savers, Added Value, Extra Features
As good paid keyword tools will do most, if not all of the above tasks, perhaps it's now easy to see the benefits of using them, especially if you are running a larger type operation. Not only do they make keyword searching a quick and simple process, they also provide way more information that you can actually use to make good decisions about your business.
A Paid Keyword Tool That Does it All?
I use a paid keyword tool called SECockpit. This tool can perform all the tasks I described earlier in the free keyword research example. It has a whole host of additional features and what I really like about this tool is that it's super-fast. I can run a keyword search and have access to hundreds of analysed keywords within minutes.
One of the best features is that there is no waiting for deeper data, for example: details of competitors sites, as it's all available once the initial search is completed.
This is a tool for quickly finding keywords that convert
You will get analysed data on the top ten websites ranking for the keywords you are researching
You get lightning speed – hundreds of fully processed keywords per minute – that's everything (competition analysis included)
You get highly manipulable data – sort and filter within seconds
You will not have to go through any follow-up steps to reveal additional data
You get lightning speed no matter what your internet connection might be as it's a cloud application
Your IP doesn't get blocked from performing too many queries as it's all done from the cloud, not your computer
Keyword Research Example Using SECockpit
In the following example I researched the keyword phrase of "curtains".
I have pointed out the four types of searches that are available. To demonstrate how fast SECockpit is I decided to run all four searches.
Here are the results. The four searches displayed 1177 keywords in just over two minutes.
Next I filtered the results. There are many columns available that you can use to filter your results. At the time of writing this post there were forty one columns to choose from.
With the columns I selected I set the filters of:
"Monthly Searches" more than 1000
"AdWords CPC" more than $1
"Rank 1-10" less than 30 (the lower this goes the easier it is to rank for)
After filtering, thirteen results remained as shown below.
Next I clicked on the keyword "black out curtains" to view the top ten sites ranking for this keyword.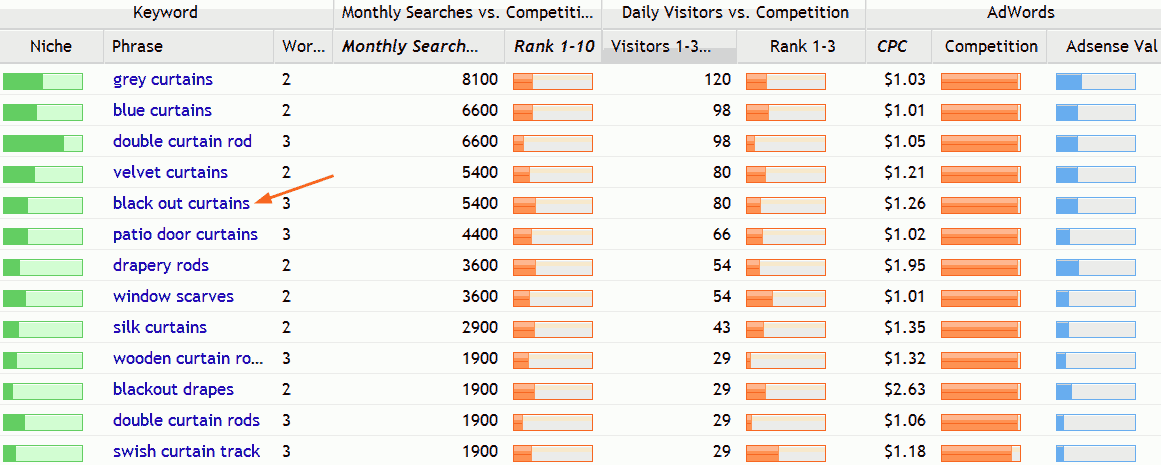 Here are the top ten sites along with data to help you decide whether it's worth competing for the keyword.
The whole process of generating 1177 keywords, filtering them down to thirteen, then checking the competition of the top ten websites that rank for a particular keyword, was completed in about two and a half minutes!
For your information, below is a screenshot of the forty one columns available that can be used to filter keyword results.
If you're serious about finding lucrative keywords then a paid keyword tool certainly has its benefits. SECockpit offers many features, lightning speed and a cloud based service that returns incredibly rich data. This data is presented in a highly usable format that makes it so much easier to choose your next money site.